Die DMX to MIDI Box ist für die Licht Software TheLightingController konzipiert welche derzeit nicht in der Lage ist, aus einer Sequentiellen Liste heraus Timelines oder Buttons zu starten. Mit dieser Box wird genau diese Forderung erfüllt. Die Box ist in der Lage bis zu 14 Timelines, oder 15 Buttons zu starten (derzeit erweiterbar auf bis zu 30 Timelines und 31 Buttons). Des Weiteren kann aus jeder Timeline ein Midi Signal an die Sequentielle Liste als "GO" Befehl zurückgegeben werden.
Das Gerät wandelt einen DMX Kanal in MIDI Kommandos (Noten Signale). Das DMX Signal wird über eine PS2 Buchse zugeführt. Ein DMX Adressenschalter dient zur Einstellung der gewünschten DMX Adresse.
Drei Leds signalisieren die wichtigsten Informationen wie "DMX ok", "Ready to send" und "Midi send ready". USB Anschluss und DMX Ein/Ausgang sind galvanisch voneinander getrennt. Der Anschluss an den Rechner, sowie die Versorgung der Box erfolgt per USB. Es wird kein Treiber benötigt.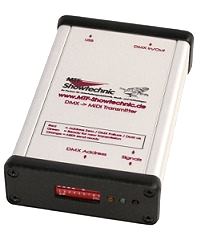 Mehr Informationen erhalten Sie unter: Info(at)mtf-showtechnic.de